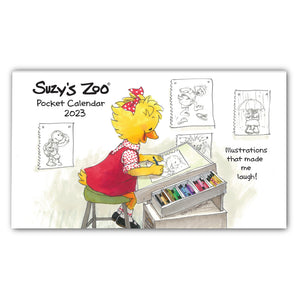 2023 Suzy's Zoo Pocket Calendar (4x7)
Suzy's Zoo's 2023 pocket calendar portrays the lives of Suzy's Zoo characters across the seasons and throughout the year.
This year's calendar visits the seasons of Duckport and the lives of it's colorful denizens throughout the year. 
Closed, the calendar measures 6-1/2" x 3-3/4", while the open calendar is 7-1/2" tall and 6-1/2" wide. This full-color pocket calendar features wonderful illustrations for every month. Each illustration accents the month and depicts the characters of Suzy's Zoo. 2023's Pocket Calendar is a perfect complement to the 2023 Appointment Calendar, which portrays Suzy's Zoo characters enjoying the changing seasons. 
2023 Pocket Calendar Product Details
Designed and Manufactured in the United States

Printed on 30% Post-Consumer Recycled Paper
Measures 6-1/2" x 3-3/4"
Includes holidays, observances, and events
UPC: 0-92948-10114-7
ISBN: 978-0922-658985