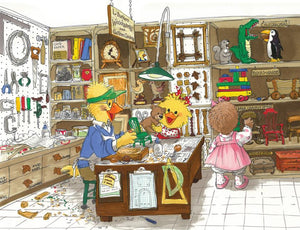 Suzy's Zoo 2016 Calendar Note Cards Set - 10882
Regular price $14.95 Sale
These 2016 Calendar Note Cards from Suzy's Zoo feature original artwork from the 2016 series of calendars. Each of the twelve cards in the package displays a different piece of artwork, each piece corresponding to a month of the year. Use them all at once to share with all your friends and family, or use them throughout the year to enhance each corresponding season. This set of 2016 calendar note cards are blank inside and feature artwork from the new 2016 calendar. Each illustration tells a different story about the citizens and characters of Duckport. 2016's Appointment Calendar features the citizens of Duckport and other Suzy's Zoo characters as they go about their everyday lives through the passing seasons. Make Suzy's Zoo a part of your day with these beautiful note cards! Each box of note cards contains twelve unique cards and thirteen white envelopes. 2016 Calendar Note Cards Product Features:
4.5" x 5.75"
12-pack, assorted
13 White Envelopes Included
30% Post-Consumer Recycled Paper
Made in USA
Want to learn more 
about Duckport
 and learn more 
about Suzy's Zoo
? Follow the links or go to the 
Suzy's Zoo
 homepage for more information.